Mission 12 - Up on the Roof Date: March 15, 1943 Place: Tunis
Historic Background: In March 1943, the Allied armies have gained control of Libya. The next step is to expel the enemy from Tunisia. However, a fierce resistance is found in the form of the Mareth Line.
Objectives: In the course of a covert operation to gather information about the Axis defenses, German soldiers have caught up your men in a sweep. They managed to run away, and now they are scattered around the city. A small operation has been set up to rescue them.
Tactical Advice:: Listen to me, officer! The alarm is off and you are being sought. Your men are dispersed and hidden amongst the buildings. You must help them find their routes of escape across the roofs of the buildings. You will also help our informer in this building to get away. And you'll regroup everybody at the point of extraction at all costs. Take care!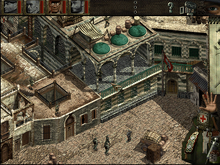 Ad blocker interference detected!
Wikia is a free-to-use site that makes money from advertising. We have a modified experience for viewers using ad blockers

Wikia is not accessible if you've made further modifications. Remove the custom ad blocker rule(s) and the page will load as expected.