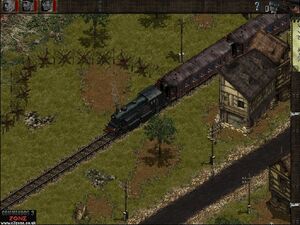 Train is a vehicle that appears in Commandos video game series. It appears in various missions in every Commandos games except for Commandos 2: Men of Courage which is only appears in the cinematic cutscene for Bridge over the River Kwai. It cannot be accessed or driven by any of the Commandos except in Commandos: Beyond the Call of Duty mission Thor's Hammer which is only a train itself without any wagons and served as an escape vehicle. However, it appears in Commandos 3: Destination Berlin Central Europe campaign.
The locomotive engine in Commandos 3: Destination Berlin bears resemblance to DRB Class 52 locomotive fitted with Wagner type smoke deflectors and other panels.
The locomotive engine in Commandos: Beyond the Call of Duty bears resemblance to a Baureihe 57 armoured locomotive which only appears in the mission pack add-on.
If the standard train is being hit by either a continues gunfire, tank cannon or any explosive weapons, the train will stop running instead of blowing up into pieces like other vehicles. However, the escape train engine in Beyond the Call of Duty can be destroyed which lead the mission ended.
Ad blocker interference detected!
Wikia is a free-to-use site that makes money from advertising. We have a modified experience for viewers using ad blockers

Wikia is not accessible if you've made further modifications. Remove the custom ad blocker rule(s) and the page will load as expected.