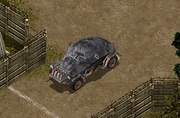 SdKfz 222 is a vehicle that appears in Commandos: Beyond the Call of Duty. It appears as a playable vehicle in the training session. Also appears in the Mission pack as an enemy vehicle in some certain missions.
This vehicle is based on a real-life SdKfz 222 armored car.
This is the only vehicle that you can drive in the training session, but it does not appear in any storyline missions (except in the Mission pack add-on).
Ad blocker interference detected!
Wikia is a free-to-use site that makes money from advertising. We have a modified experience for viewers using ad blockers

Wikia is not accessible if you've made further modifications. Remove the custom ad blocker rule(s) and the page will load as expected.