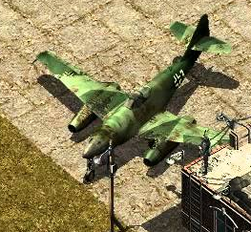 Messerschmitt Me 262 is an aircraft that appears in Commandos: Beyond the Call of Duty. It appears in the mission Eagle's Nest as one of the prototypes that is given a task to destroy it before its completion.
It is based on a real-life Messerschmitt Me 262 jet aircraft which was first introduced in 1944.
This aircraft is also appears as a target objective in Commandos: Strike In Narrow Path mission Broken Wings.
Those aircraft are the main objectives that must be destroy in the mission, but you will fail if you leave one of those by wasting your time for shooting a tank wagon.
The Me 262 was the first ever jet fighter to be mass produced.
Ad blocker interference detected!
Wikia is a free-to-use site that makes money from advertising. We have a modified experience for viewers using ad blockers

Wikia is not accessible if you've made further modifications. Remove the custom ad blocker rule(s) and the page will load as expected.