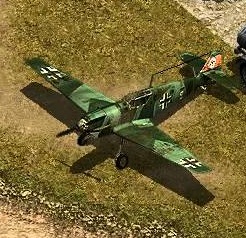 Messerschmitt Bf 109 is a German fighter aircraft that appears in Commandos: Beyond the Call of Duty. It only appears in the mission Eagle's Nest. 
It is based on a real-life German fighter aircraft with the same name.
If you leave one of these planes in the mission, it will not lead to failure as long as you leave one prototype aircraft without destroying a single one.
Ad blocker interference detected!
Wikia is a free-to-use site that makes money from advertising. We have a modified experience for viewers using ad blockers

Wikia is not accessible if you've made further modifications. Remove the custom ad blocker rule(s) and the page will load as expected.