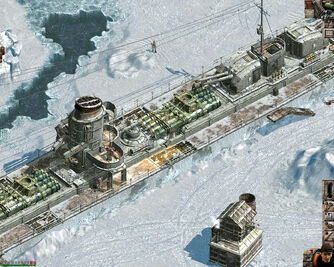 Destroyer is a ship that appears in Commandos 2: Men of Courage. It only appears in the mission White Death which serves as a German Destroyer. It houses the Spy, Thief, and the Submarine crew after being captured by the Germans.
The ship's appearance is based on German Destroyer Z39.
The destroyer has two built-in machine gun nests which are usable by the player.
Ad blocker interference detected!
Wikia is a free-to-use site that makes money from advertising. We have a modified experience for viewers using ad blockers

Wikia is not accessible if you've made further modifications. Remove the custom ad blocker rule(s) and the page will load as expected.