The sixth Bonus Mission is quite hard. You are given Tiny, Tread, Spooky and Inferno (taken by the soldiers as a captive). First, save Inferno because he is important to finish the game, by doing either the following tactics:
1. Throw numerous Molotov Cocktails to the enemy (near Inferno, but be careful in throwing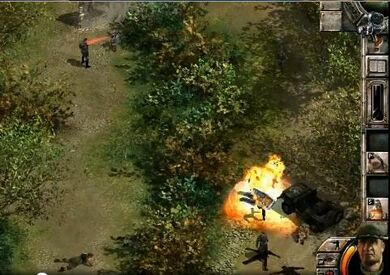 this or Inferno may burn) until they are few, then eliminate the rest of them.
2. Use Spooky's officer uniform to distract patroling soldiers, then command Tiny to kill them with his knife.
3. Use Tread's traps to eliminate the patroling soldiers.
After saving Inferno, command Tiny to get past through the poles, put a ladder onto a big wall, and open the barbed wires for his other Commandos to get pass through them. Then defeat the rest of the soldiers and escape with the vehicle.
Ad blocker interference detected!
Wikia is a free-to-use site that makes money from advertising. We have a modified experience for viewers using ad blockers

Wikia is not accessible if you've made further modifications. Remove the custom ad blocker rule(s) and the page will load as expected.