The last and final Bonus Mission is easy. The available Commandos are Tiny, Duke, Tread and Lupin. At first, it will be a bit tricky but if you concentrate on it harder, then you will finish it smoothly. The area is a bit smaller than the previous bonus missions. Your main goal is to escape using the enemy vehicle, that's why you have Tread at your side. Eliminate the enemy snipers first, then kill the remaining soldiers.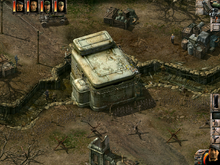 Ad blocker interference detected!
Wikia is a free-to-use site that makes money from advertising. We have a modified experience for viewers using ad blockers

Wikia is not accessible if you've made further modifications. Remove the custom ad blocker rule(s) and the page will load as expected.